Sometimes it seems that the combination of power, dust, and the vagaraties of life combine to ensure that we will have a really hard time doing ministry. Take, for instance, our wonderful Risograph machine. The machine is rated for 10 million copies, and since we bought it, we've only done a measly 2 million copies on it.  So it's still pretty well new, right? Well, we're having a tremendous amount of trouble keeping it running right now. When it's running well, we typically have zero errors on 2000 pages. That's a really nice error rate, and we depend on that for all the printing we do. Right now, we have 6 comic books (2500 copies each) waiting to be printed, along with the English version of the "Global Pathway" book for Go To Nations, as well as 3 200-page discipleship books for another ministry in town. Roughly 200,000 pages total. So things were humming along.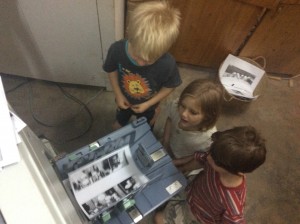 Suddenly, we started getting about 5 errors per 10 pages. Not okay! So we fiddled with the machine ourselves, replaced the strike plate and the feed rollers, and when that didn't help, we called the repairman, replaced the clutch, and when that didn't help, we replaced the strike plate and feed rollers again, and then the repairman called the bigwigs in Dar es Salaam.
All together we may have spent 50 hours working on it. The final decision was that there's nothing in the machine that could cause that issue, so they told us to buy new paper and try that out.
Th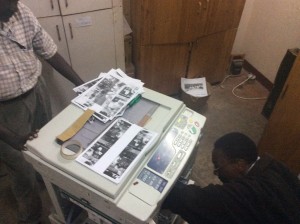 at is difficult to do, though. Right now, there's Mondi paper from South Africa available in town, and that's really about it. We used to use a wonderful Sappi paper, but no one can get it anymore. Looking at every stationary store in town, we were able to find one more type of paper (Double A from Thailand), and so we bought a few reams to check it out. I ran through a ream or so, and was playing with the machine, trying to improve the results, without much effect. In frustration, I decided to try the real project again, and, with no logical explanation, I was able to print 7000 pages with no problem – literally. The first 6500 of them didn't have a single misprinted page.
So, besides being happy and grumpy all at the same time, we were ready to roll. I set everything up so that Ndelilio could launch into a non-stop printing run the next morning, turned the lights out, went home for the night…
And we haven't had electricity in the daytime since.
Update: Power outages don't stop us – we have a battery backup system to keep important computer equipment online, so today we actually managed to print – by the light of led panels we "borrowed" from the Wewe Nami filming team. Let the presses roll!